About us
UNESCO Chair on Geoenvironmental Disaster Reduction
The establishment of the Chair
In the beginning of 2018, an agreement was signed by the Director-General of UNESCO and the President of the Shimane University, Japan, concerning the establishment of a UNESCO Chair at Shimane University.
Project title:

Geoenvironmental Disaster Reduction

Starting date:

1st April 2018 (Start of the Academic Year)

Duration:

4 years, renewable

Disciplines concerned:

Earth sciences, engineering geology, environmental science, hydrogeology, geohazards, risk reduction

Name and full address of host institutions:

Shimane University (SMU), Japan
Objectives
The mission of the Chair is to promote education and research (E&R) for the reduction of geoenvironmental disasters, in order to improve the relationship between environment and society. The specific objectives of the Chair are:
to promote the development of innovative technologies for the prevention and mitigation of geoenvironmental disasters;
to develop tools and procedures for supporting risk reduction policies and emergency management for the safety of the human life;
to promote the protection of cultural heritage and Geoparks threatened by geoenvironmental hazards;
to promote research at international level by offering scientific facilities to post-graduate students and visiting researchers.
Headquarter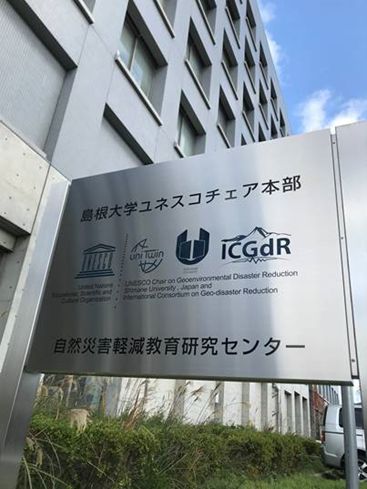 The Chair is hosted by the Center for Natural Disaster Reduction Research and Education, Shimane University, with the cooperation of International Consortium on Geo-disaster Reduction (ICGdR). Shimane University was established as a national university in 1949 and consists of the Matsue campus and the Izumo campus (https://www.shimane-u.ac.jp/en/). Shimane University is located in a place well-endowed with nature such as Lake Shinji, the Oki Islands, Sambe Volcano, and so forth. At the same time, there are also many historical cultural assets such as the Iwami Ginzan Silver Mine (a UNESCO World Heritage Site), Izumo Taisha Shrine, and Matsue Castle in Shimane Prefecture.