Training Course
2021. 03. 06-13
UNESCO Chair 2021 International Online School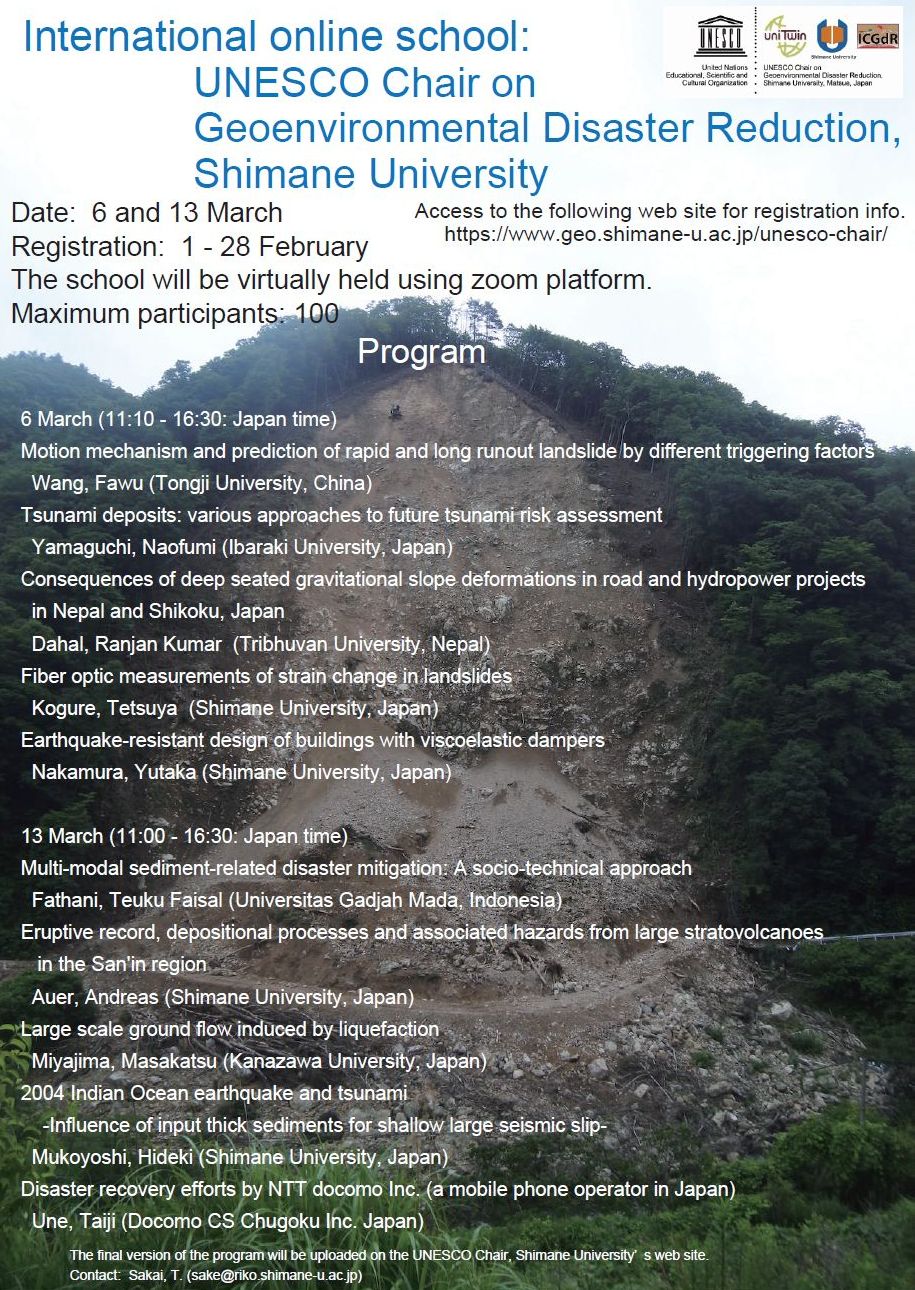 International Online School: UNESCO Chair on Geoenvironmental Disaster Reduction, Shimane University
Date: 6 and 13 March (Saturdays)
Platform of the online school: Zoom
Registration: 1 – 28 February
Maximum participants: 100
[27 January 2021]
The UNESCO Chair, Shimane University, has organized international field schools in the last two years to share the knowledge regarding disaster prevention and risk reduction and enhance participants' mutual understanding from different countries. Due to the widespread Covid-19 infection, we reluctantly decided to cancel the International Field School of the UNESCO Chair in 2021. As an alternative event, we plan the virtual International School held on 6 and 13 March 2021 via Zoom. All those who are interested in this subject are invited to join this international school. A series of lectures covers natural hazards and disasters, countermeasures, and actions for disasters related to earthquakes, tsunamis, flooding, and landslides. We are confident that this virtual school provides an excellent opportunity to touch the advanced part of the natural disaster and hazard science for risk reduction.
The participation fee is free. Registration starts on 1st February through the google form. Please feel free to contact to Dr. Sakai, T (sake@riko.shimane-u.ac.jp) if you have any questions. We are looking forward to seeing you at the zoom workshop in March!
Sincerely,
Chair holder,
Emeritus Professor of Shimane University,
Wang, Fawu
Organizing committee member
Auer, Andreas
Kogure, Tetsuya
Mukoyoshi, Hideki
Sakai, Tetsuya
Contact: mail_outline sake@riko.shimane-u.ac.jp (Sakai, T.)
Registration
We upload the registration information on this page on 1 February. Please register your participation through Google Form or sending the registration form (excel file) to the contact e-mail address above.
update [Feb. 1, 2021]
Google Form
link https://docs.google.com/forms/d/1MTi0sD5EW8A-Bw2TggZigTL8D2zo-IzOlhRnaFCVgIk/edit
Download Registration form (Excel)
file_downloadRegistration form
2020. 02. 10-15
UNESCO Chair 2020 Field School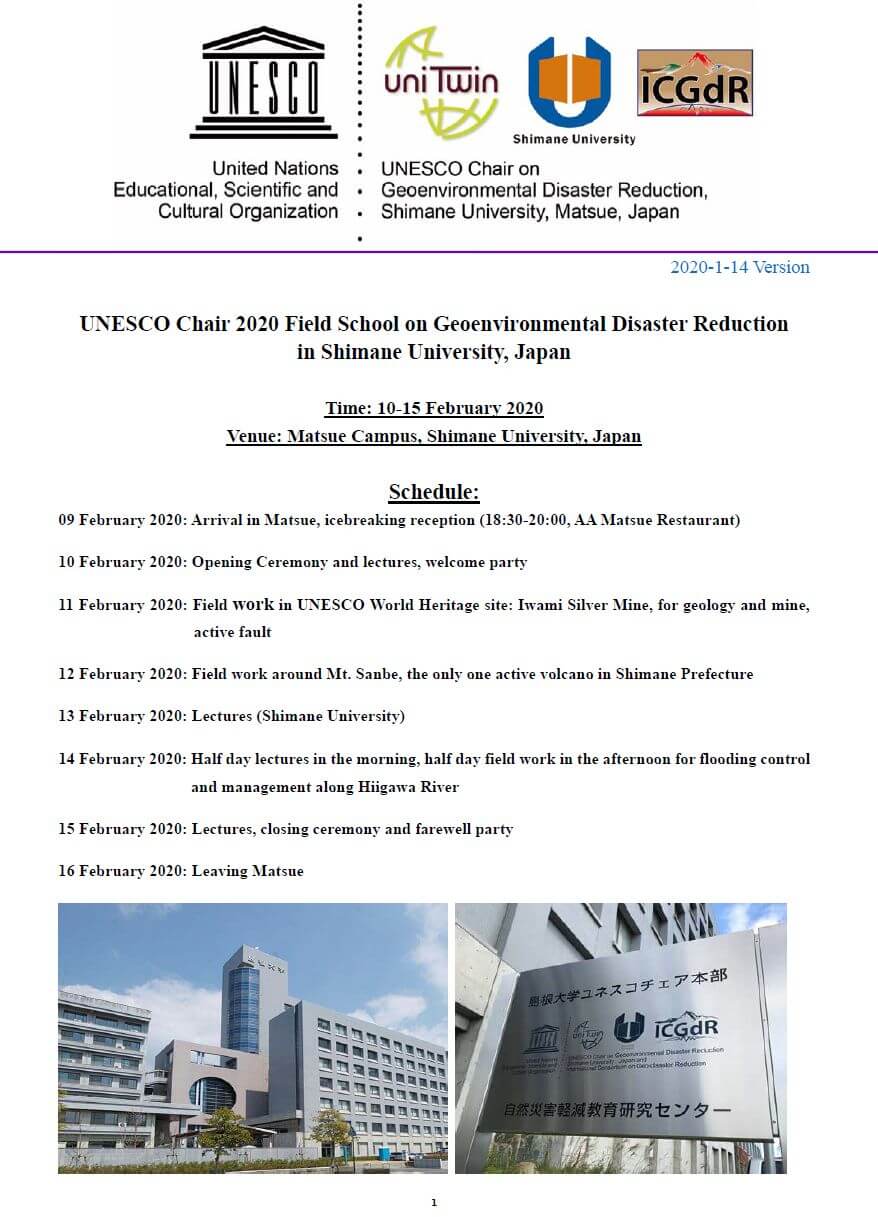 Release of 2020 Field School Lecture Videos
update [Mar. 13, 2020]
Announcement of 2020 Field School Program
update [Feb. 7, 2020]
Calling for visiting professors & Participants !
[Oct. 8, 2019]
UNESCO Chair 2020 Field School on Geoenvironmental Disaster Reduction in Shimane University, Japan
Time: 10-15 February 2020
Venue: Matsue Campus, Shimane University, JAPAN
Organizer: UNESCO Chair on Geoenvironmental Disaster Reduction, Shimane University, Japan
Schedule
Feb. 9 Arriving at Matsue City, Shimane, Japan
Feb 10 Opening ceremony, guidance and lectures
Feb 11 Field school around Mt. Sanbe (Active fault, Iwami Silver Mine)
Feb 12 Field school around Mt. Sanbe (Volcanoes, Landslides)
Feb 13 Whole day lecture
Feb 14 Lecture in the morning, field excursion in the afternoon for flooding control
Feb 15 Whole day lecture, closing ceremony

Participation Fee:
For Visiting professors
All of the accommodations and foods during the staying in Matsue in the field school period will be covered by the organizer.
For Students:
No registration fee is needed.
All of the parties during the staying in Matsue in the field school period will be covered by the organizer.
How to apply: (Deadline: 15 November 2019)
Please send an application letter with a simple CV in two pages to the following email address:
2019. 03. 14-18
UNESCO Chair 2019 Field School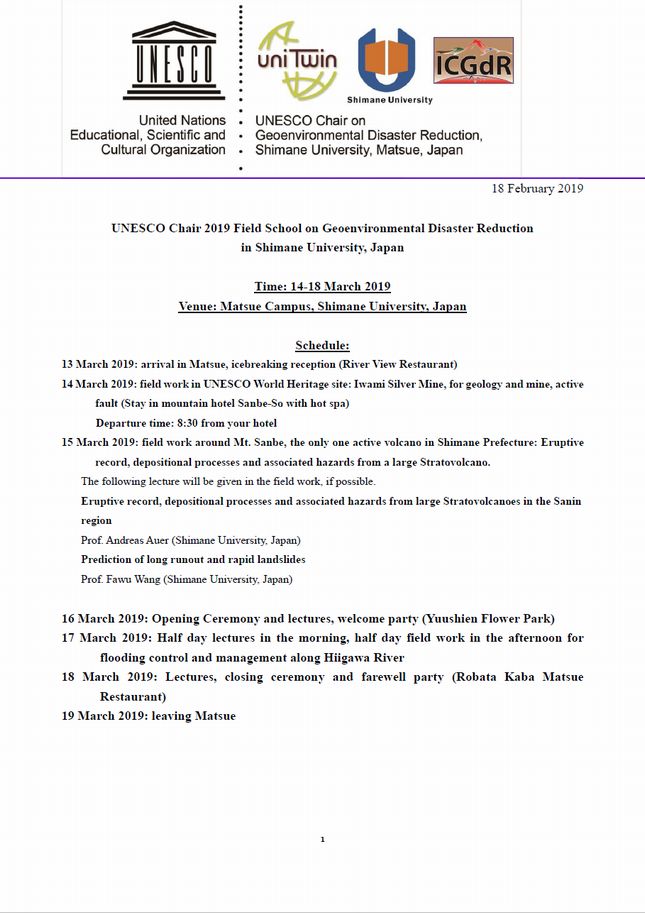 UNESCO Chair 2019 Field School on Geoenvironmental Disaster Reduction in Shimane University, Japan
Time: 14-18 March 2019
Venue: Matsue Campus, Shimane University, Japan